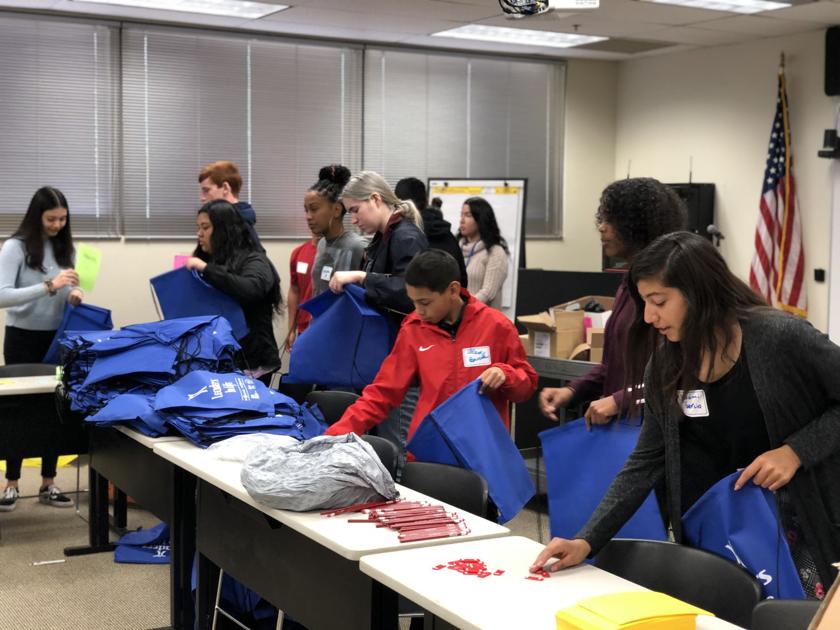 Teenagers have a lot to juggle on a daily basis — school work, tests, extracurricular activities and a social life. Add on planning an entire daylong conference for students, and it seems nearly impossible to handle it all.
But after 20 years in the community, about 100 students involved in Leaders in Life show it is indeed possible, especially since they know their work directly affects their peers.
Leaders in Life will have its 21st annual conference from 8:30 a.m. to 2:15 p.m. March 12 at the Mechanics Bank Convention Center.
For more than two decades, this event has given Kern County students in sixth through 12th grades the opportunity to discuss and evaluate issues they face in a positive environment through workshops.
This year's conference welcomes A'ric Jackson as keynote speaker, whose mission is to teach, inspire and encourage youth and help others pursue their goals and dreams. Workshop topics include student leadership and advocacy, tobacco and drug use prevention, youth voice to improve school climate, college and career exploration and issues faced by teens (relationships, social media, stress, bullying, etc.).
The success of today's conference can be tracked back to 1998, when businessman Morgan Clayton attended the Bakersfield Business Conference and wanted to find a way to inspire community youth. An idea popped into his mind: why not let students create a conference for their peers that tackles issues they care most about?
"In February 1999, 35 students came together, we brainstormed and had our first conference in 2000. It turned out to be fantastic," Clayton said. Since that first conference, "we've helped over 40,000 students."
With this year's main event anticipating about 2,100 attendees, students have held several general planning and subcommittee meetings throughout the school year. Tuesday was their final full gathering, where students were busy putting together goody bags, going through speakers lined up for workshops and finalizing other details.
Many students have been involved with Leaders in Life for several years, which has allowed them to gain skills they'll use later in life.
"I came from a really financially disadvantaged school district so it was mainly to give us more leadership skills on how to combat the issues we had in our schools and be a better example to other students in my area," said Golden Valley High School senior Amariun Tyiska, who has been a part of the conference for six years.
Putting a focus on youth voice, a safe and supportive environment and diversity has been at the forefront. Because thousands of students from schools across the county attend the event, it's important to hear from everyone and know what issues affect them most, explained Kylie Whitlock, a junior at Frontier High School. That comes into play when deciding what topics to cover during workshops.
Vaping and drug use has become an epidemic that has affected their classmates, so student organizers felt it was necessary to hold workshops that teach their peers about the dangers of tobacco and driving under the influence. The organization Students Working Against Tobacco will also speak at the conference.
Anti-bullying, overcoming fears with public speaking and how to get a head start on career plans are other workshops students have designed.
"That's definitely one of my favorite parts — listening to everyone else's stories from other schools and comparing how different they are," explained Whitlock. "I like knowing people from other schools and what's going on in their lives and what issues they're facing so when I see it coming up at my school, I can put an end to it as soon as possible."
Other than having another conference under his wing, Tyiska said he is most looking forward to seeing all the diversity when thousands of students come together. It might even encourage other minority students like him to want to join the general and executive planning committees.
For Clayton, every year makes him look forward to all that is to come with these future leaders.
"They really step out and find their spark," he said. "I think they're the best model for us moving forward."