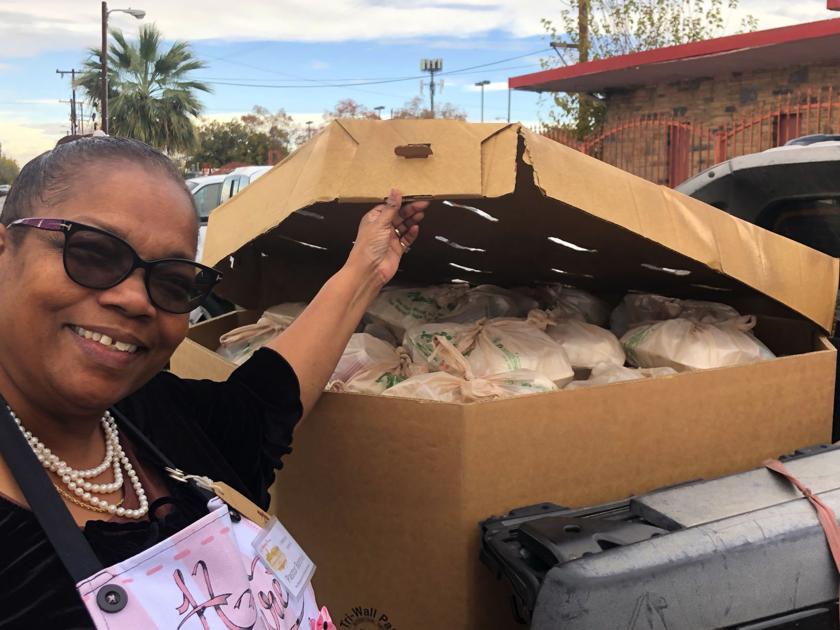 Thanksgiving is a time for good food, camaraderie and lending a helping hand.
The Blessing Corner Ministries provided all three to those in need Thursday.
Located at 101 Union Avenue, Blessing Corner served meals to benefit the homeless and less fortunate on Thanksgiving Day from 11:30 a.m. to 2:30 p.m. The ministry also delivered meals to senior citizens and veterans in the community.
Event Coordinator Tasha Turner said that 425 meals had been served or delivered an hour into the event and that roughly 800 would be done by day's end. The efforts were aided by about 70 volunteers, she said.
Turner, 28, said that Blessing Corner has been doing the holiday dinner for as long as she could remember.
"We know the need here," she said. "We've been here for some time."
Her mom, Pastor Bonnie Gillette Turner, said the gathering usually brings in far more people than Thursday's turnout. She said the rainy and cold weather may have played a factor and that more groups and organizations than ever before are doing similar events throughout the city on Thanksgiving Day.
Bonnie Turner said the ministry began handing out turkeys in 1999, only to realize those in need didn't have a place to cook them. She then began hosting the holiday dinner.
The church also hosts meals every Tuesday and Friday, and will have a similar dinner and donation event on Christmas Day.
"We have to help them," Bonnie Turner said. "Thanksgiving is a day to give thanks. We want to accomplish that goal with this."
Gonsalo Cervantes said him and his father realized Wednesday night their oven wasn't working. His dad retrieved a flier for the Blessing Corner dinner from his truck, however, and they were able to enjoy a hot meal after all.
"It's great they do it. It means so much," he said. "We got a true dinner. We are really appreciative of that."
Ramiro Urena had a full to-go plate on his way out the door, which was for his wife at home.
"It's better than being alone," he said. "Sitting with other people, being thankful for what we have. I'm thankful for it."