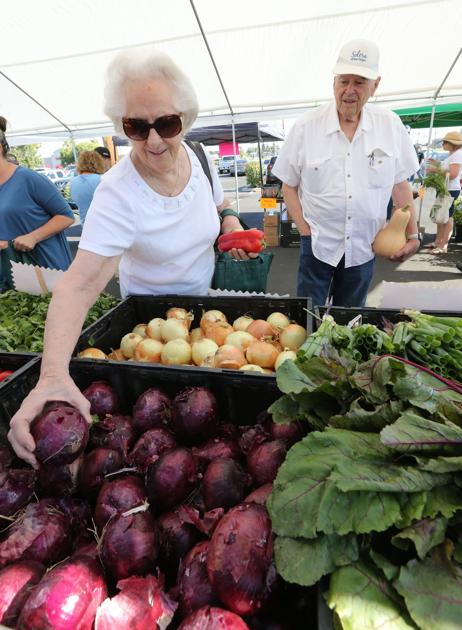 The fifth annual Charity Farmers Market, organized by the Kern County Farm Bureau's Young Farmers & Ranchers program, featured some of the best local fruits, vegetables and flowers Saturday — and it was all donated by Kern County farmers for a great cause.
The farmers market, held in the Chuy's parking lot on Rosedale Highway, will use all of the proceeds this year to build a garden at the Lamont clubhouse of the Boys & Girls Clubs of Kern County, as well as various other projects by the Young Farmers & Ranchers. Anyone who attends the farmers market can make a donation in exchange for any of the produce available.
Watermelon, honey, carrots, almonds, limes, citrus trees and roses were among the items donated by Kern County farmers.
There was a "steady" turnout at the farmers market, and people tend to come in and out as they get out of different events or get their day started, said Allie Cushnyr, a member of the Young Farmers & Ranchers program.
"Overall, we've been very happy with the amount of people who have come out," Cushnyr said.
Every year, the Young Farmers & Ranchers program uses funds collected from the farmers market to work on one large project. This year, Lamont's Boys & Girls Club was picked from a group of organizations to receive a garden, said Erick Morales, chair of the farmers market.
The Young Farmers & Ranchers program provides leadership and professional development for individuals between the ages of 18 and 35 while providing the opportunity to meet and socialize with other young people involved with agriculture throughout the state. There are at least 25 active members who attend the monthly meetings, which can consist of farm tours, industry speakers, social events and cherry-picking for gleaning.
"What we do is we work on our leadership skills in order to advocate for agriculture," Morales said. "The farmers market is a way to let people know about our different growers around the county and to also get funds to educate the younger ones about agriculture."
The Boys & Girls Club in Lamont asked for raised garden beds with a fence, and fruit trees are being donated for the garden as well, Cushnyr said.
"They'll have a lot of really good opportunities to grow fruits and vegetables, and then they'll also see some fruit from the trees as well," Cushnyr said.
Any additional funds will assist with smaller projects in the community and promote agriculture education.