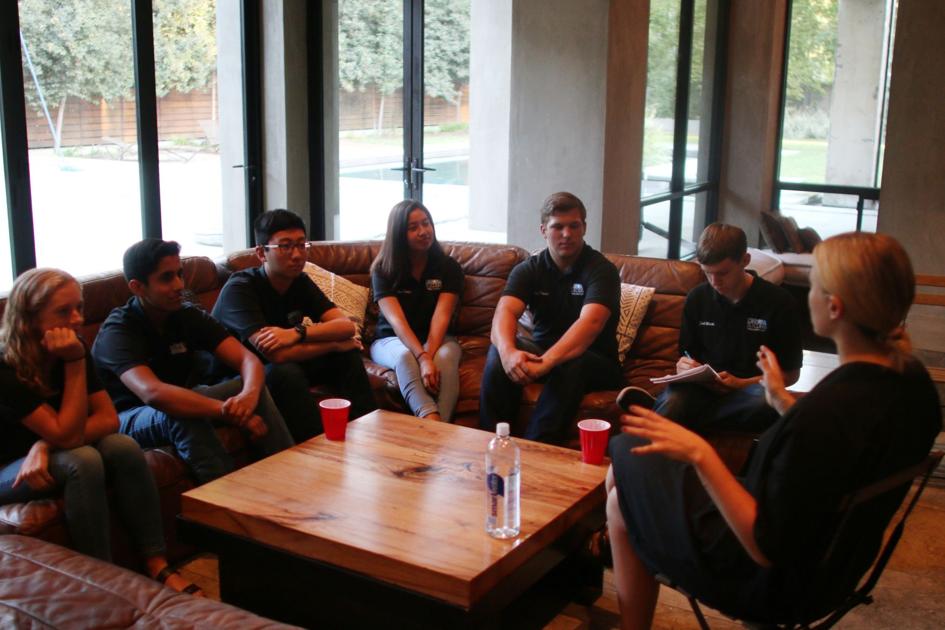 Bakersfield has traditionally had a bit of a perception problem.
Johnny Carson once called it "the armpit of California." Others have complained about Bakersfield's heat, it's crime and drug issues. With that said, a team of eight local high-school students are looking to do their part to highlight some of the people that make Bakersfield interesting and unique.
Students who are part of the Jim Burke Education Foundation's Ford Dream Builders program have created a book called "Greetings From Bakersfield" that features profiles on 36 people that have had a positive impact on Bakersfield.
The book is a project that the team did this year as part of the program, which aims to promote civic leadership and community service among high-school seniors. Students are tasked with doing a community service project each year.
"We wanted to fight the stigma that Bakersfield has," said Liberty High student Jack Waite, who led the team. "We know there are amazing people in this town doing amazing things, and we wanted to show that off with our book. This is about highlighting the diversity, passion and interesting people that make our town great."
The team came up with the idea for the project last summer and began actively planning the book in the fall. Waites said Aera Energy funded the project through a $500 donation.
Over the past few months, the students have been actively working on doing interviews, taking photos and, lastly, designing the book.
For the project, the students interviewed educators, business owners, political figures and more. While some of these people are well known, such as Mayor Karen Goh and Assemblyman Vince Fong, the majority of them are not public figures.
"We tried to focus on the uniqueness of the individuals, how they've contributed to the community," Waite said. "We want to show how Bakersfield has helped them and how they've helped Bakersfield."
Waite said he enjoyed the experience of interviewing people for the book and that it opened his eyes to the depth and diversity of Bakersfield.
"Growing up here, I didn't really know what was going on in this town," he said. "When I interviewed these people, I could feel how passionate they were for this community, and I could see what they were doing to try to make the community better. I took my town for granted, essentially, so I'm glad I was able to make these connections."
Waite said the book was completed last week and will be showed off at a release event at the Kern County Museum next week. Through some grant funding, the team has ordered an initial printing of 100 copies of the 40-page book.
Waite said the Kern County Museum will sell the book, starting on Feb. 21. Proceeds will support the museum, which in return will fund additional printings of the book if there is demand for it.
"Now we have to wait to see if the community really likes it or not," he said. "We're satisfied with the book we created. We're really proud of what we've done."
Jennifer Vaughan, who served as an advisor for the team, said she's really proud of the students' efforts, especially given that they were also busy with school and extracurricular activities.
"This is an amazing group of kids. I'm really impressed by them," she said. "They all stepped up and really supported each other. It's been fun to see them realize that they can do a logistically complicated project like this."
Vaughan said she believes the students produced a high-quality, professional book that she hopes will be educational for people who live in Bakersfield and those who don't.
"I really hope that through this book, all of us who live here can realize how unique a place Bakersfield is," she said. "We have such a big sense of community here. People care about each other. They care about their community. I hope the book helps people realize that and that they should be proud of where they live."