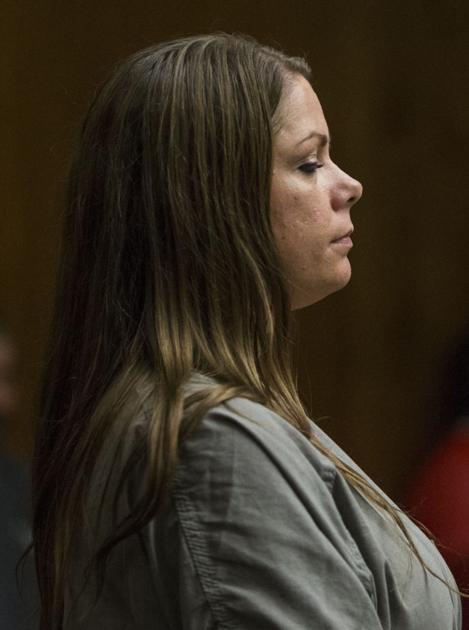 A Twin Oaks woman charged with gunning down a woman and attempting to kill her boyfriend in 2017 is set to return to court this week.
Cori Dean Cotton, 34, will be in Kern County Superior Court on Friday for a readiness hearing, where attorneys could confirm a trial date currently set for June 3 or push the trial back to another date.
Cotton pleaded not guilty in 2018 to charges of murdering 39-year-old Kristin Goldsberry, attempted murder of Goldsberry's boyfriend as well as voluntary manslaughter and assault with a deadly weapon.
According to court documents, Cotton shot Goldsberry twice in the head during an argument in the 19000 block of Back Canyon Road in the Twin Oaks area in March 2017. She also allegedly attempted to shoot the woman's boyfriend — whose name is redacted in the documents — but missed.
Cotton then allegedly buried the body with the assistance of 56-year-old Bret Stroud.
After the boyfriend notified law enforcement of the incident of the shooting, investigators conducted a search of Cotton's residence and found several firearms. Cotton was subsequently arrested, according to court documents.
Stroud was also arrested and admitted to helping bury Goldsberry's body, documents said. He led investigators to the body and to the location of the 9mm handgun he said Cotton used to kill her.
Cotton was released from custody after charges against her were dismissed in December 2018 by the Kern County District Attorney's Office due to a lack of enough evidence.
However, she was re-arrested in August 2018 and new charges were filed against her after more evidence was uncovered.
Jesus Moreno
An Arvin man charged with murdering a pedestrian in a DUI crash in 2017 is set to be sentenced Tuesday.
Jesus Rodriguez Moreno, 56, was convicted in April of murder, gross vehicular manslaughter, hit-and-run and driving without a license in connection with a crash in Lamont on June 3, 2017 that killed 39-year-old David Rosales Rico.
According to the California Highway Patrol, Moreno was driving north on Highway 184 north of Buena Vista Boulevard at around 9:30 p.m. when he drifted onto the right shoulder and hit a telephone pole.
Moreno left the area and continued heading north, officers said. At one point, he began veering to the right again and this time hit and killed a pedestrian, Rico, CHP said. He fled the scene but was later found less than two miles from the site of the crash after his vehicle began leaking fluid.
Moreno was arrested and found to be under the influence of alcohol with a blood-alcohol content three times the legal limit, according to court documents.
According to court records, Moreno had four prior DUI cases. As this DUI offense led to a death, Moreno was charged with murder. He pleaded not guilty to the charges in 2017.