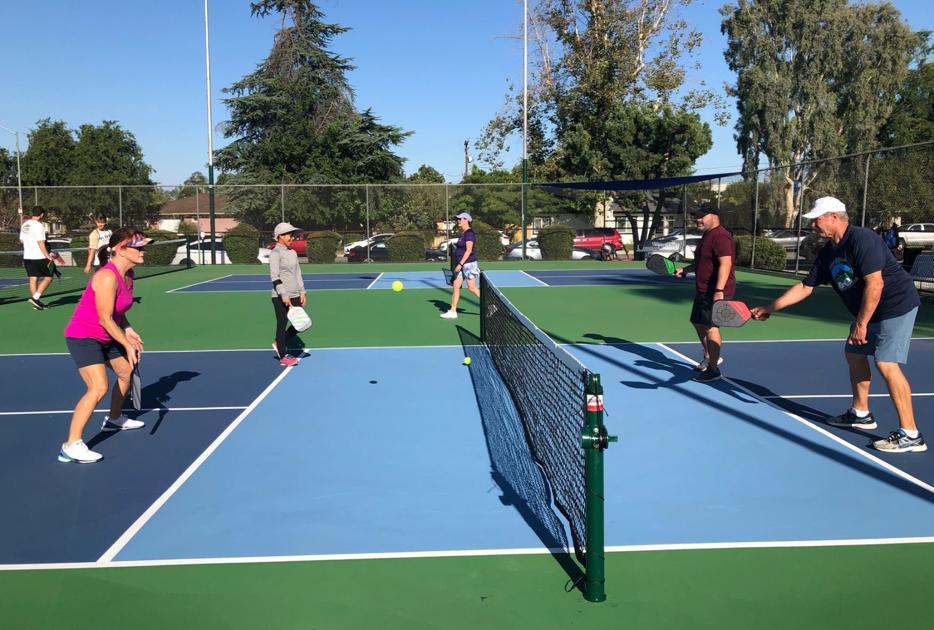 Local pickleball fans now have a new dedicated space to play one of America's fastest-growing sports.
The city of Bakersfield opened its newly renovated court complex at Jastro Park on Saturday. The complex now has six dedicated pickleball courts, three tennis courts as well as six benches and new LED lighting to allow for better play at night.
The $306,000 project started construction in January 2018 and was completed this past Friday, according to the city.
"This, today, is a good example and an indicator of the city's continued commitment to provide recreational and park resources for all citizens in Bakersfield," said City Councilman Andrae Gonzales. "I'm looking forward to seeing many people throughout the community enjoy this space for years to come."
Jastro Park is the first park in the city to have dedicated pickleball courts. However, other organizations have already begun creating new spaces for pickleball, a hybrid of tennis, ping pong and badminton.
Last summer, the North of the River Recreation and Park District opened its new Greenacres Pickleplex.
Jill Hicks came with her husband to the opening on Saturday to check out the newly renovated courts and play a few games of pickleball. Hicks said they've been coming to Jastro Park to play for the past three years.
"When we came out before, we had to figure out what lines were the pickleball lines, as they were laid within the tennis court," she said. "Designated pickleball courts makes it easy to see the ball, know where the exact court is and not getting the lines mixed up with the tennis ones. It's very nice."
Hicks said she and her husband were invited to play by some friends and decided to try it out. They've been hooked ever since, playing whenever and wherever they can.
"It's something athletic that we can do together," she said. "As you age, it's hard to find sports that you can do and enjoy without really hurting yourself. We wanted something we could do when we retire that's physically active."
Fellow resident Ali Bakoo, who also came out on Saturday, said he plays largely as a means of exercise.
"It's a fun cardiovascular workout without feeling like a workout," he said. "You get to have a good time and make some new friends. (Pickleball) is a very inclusive and social sport."
Bakoo said he has been playing at Jastro Park for the past year after a friend introduced him to the sport. While he's made do using the old tennis courts, he's happy to see an increased focus on pickleball at the park with this new project.
"It's absolutely amazing. It's come a long way from what it used to be," he said. "This is going to allow more people to play and discover pickleball."