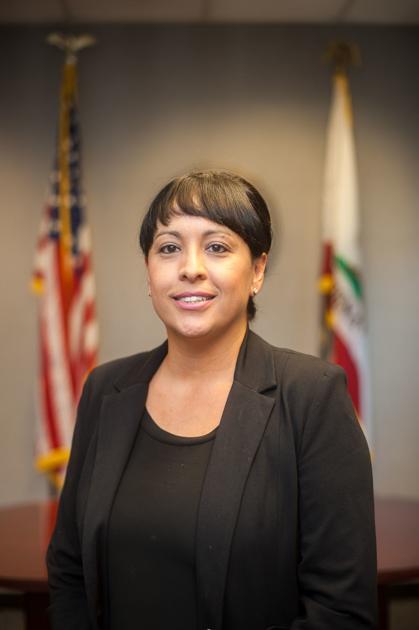 A court settlement has been reached in the misdemeanor case against Kern County Supervisor Leticia Perez regarding alleged financial conflicts of interest in her role as supervisor, ending an 18-month ordeal for Perez.
H.A. Sala, Perez's defense attorney, said a settlement was reached with the Kern County District Attorney's Office on Thursday morning in Kern County Superior Court that will result in the dismissal of all charges if certain conditions are met.
According to a news release from the DA's Office, those conditions include:
● Payment of $30,000 in penalties, payable to community charitable organizations focusing on homelessness abatement and/or drug rehabilitation. Payment of $30,000 represents the return of financial benefits conferred to Perez's husband, Fernando Jara, for his work promoting the cannabis industry prior to Perez's Oct. 24, 2017 vote, which involved cannabis land-use ordinance revisions.
● Payment of a $4,000 administrative fine to the Fair Political Practices Commission and resolution of the commission's investigation into Perez's actions related to the Oct. 24, 2017, vote.
● Performance of 100 hours of community service, to be served through community service providers approved by the Probation Department.
● Completion of an in-person ethics course conducted through the California Institute for Local Government, an organization dedicated to promoting ethics education for local government leaders.
● Amendment of previously filed Form 700 disclosures covering years 2016 and 2017 to reflect all income received from the cannabis industry by Perez and her husband during those years.
Perez's alleged conflict of interest arose between her role as supervisor and the California marijuana industry. The first count against Perez stated she "did make, participate in making or attempt to use her official position to influence a governmental decision in which she knew or had reason to know she had a financial interest."
Perez was the lone vote against a motion banning commercial cannabis. Her husband, Jara, owned a consulting firm that had done work on marijuana policy for several clients.
The second count against Perez stated that on April 3, 2017, she failed to file a statement "disclosing her investments, interests in real property, and income during the period of 2016," also a misdemeanor.
It was believed to be the first time an elected official has been criminally charged in Kern County.
According to a news release from the DA's Office, the agreed upon stipulation to the facts underlying the charges, signed by both counsel and Perez, provide that Perez acknowledge the following:
● In December 2016, Jara received a $5,000 check from David Abbasi for consulting services. Abbasi operated marijuana dispensaries during that time.
● In a Form 700 submitted on April 3, 2017, by Leticia Perez, which required reporting for calendar year 2016, she did not disclose the payment received from Abbasi.
● In March 2017, Jara was retained pursuant to a written contract by Stephanie Smith and C. Martin Smith — principals of Industrial Partners Group — to represent them and IPG in public affairs and political strategy. IPG's objective was to seek regulatory approval for cannabis operations in Kern County.
● IPG paid Jara $25,000 for the contracted services. Jara, on behalf of IPG, was to identify viable opportunities for IPG to obtain approval for licensed cannabis operations throughout the Central Valley, which included unincorporated Kern County.
● Jara attended and arranged meetings for IPG principals and agents regarding the potential leasing of property in Kern County for potential cannabis-related operations that would be subject to county jurisdiction.
● In summer 2017, Jara met with IPG principles and agents in Perez's office related to future cannabis regulations in Kern County.
● On Oct. 24, 2017, in her capacity as a Kern County supervisor, Perez participated in a vote regarding the approval and regulation of the sale of cannabis and cannabis-related products in unincorporated Kern County. The vote presented a foreseeable financial interest to Perez and Jara, and Perez knew and had reason to know of the financial interest of both herself and Jara in the vote.
● The parties agree that discovery has been provided in compliance with People v. Murgia, and, having had the opportunity to review the materials, the defense will not be making further claims of selective prosecution regarding this case. All parties further agree that by entering the stipulation and conditional dismissal, any such claim is waived and will not be raised in any potential future hearings on the case.
In a statement, District Attorney Cynthia Zimmer commented on the resolution:
"When the penalties that may be imposed by the Fair Political Practices Commission are not enough to fully address violations of the public trust, criminal prosecution is appropriate to ensure that there is a strong deterrent for actions that run counter the public's trust and ethics laws. In this case, the criminal prosecution has successfully achieved our goals of ensuring that Supervisor Perez is not permitted to profit from the conflict of interest she engaged in. Moreover, today's resolution requires clear admissions to the facts underlying the charges, ensuring that voters can make educated choices about the supervisor's actions. In addition, the resolution provides both punishment and rehabilitation measures to ensure future compliance with ethics laws."
Sala also shared his reaction to the settlement.
"The objective we had from the moment the charges were filed was to achieve a dismissal. That mission has been accomplished," he said. "Upon the satisfaction of the conditions … the charges will be dismissed in 180 days."
In a news release that followed, Sala's office characterized the dismissal of charges as "an appropriate and just resolution of the case" that will allow Perez to continue to serve as county supervisor in the 5th District.
In addition, Perez will donate the $30,000 previously paid to her husband to the Bakersfield Homeless Center, and that her community service hours will be served at the center.