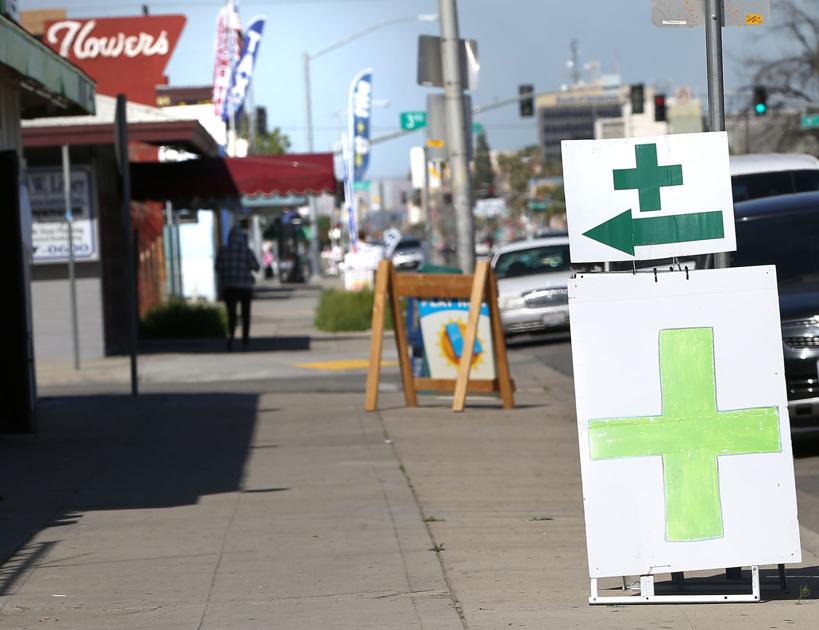 For the second election in a row, voters will face conflicting medical marijuana measures that could reshape the cannabis industry in Kern County once again.
One measure, Measure D, qualified for the ballot after a successful signature campaign led by medical marijuana advocates Cecilia Latu and David Abbasi (who is also running for Fifth District Supervisor).
The second measure, Measure E, was put forward by the Board of Supervisors as an alternative to the Latu and Abbasi option.
Each measure would overturn a ban on marijuana sales in unincorporated Kern County areas that was instituted by the Board of Supervisors after recreational cannabis became legal.
While both measures would maintain the ban on recreational marijuana sales, both would overturn the ban on medical marijuana dispensaries.
However, that is effectively where their similarities cease. The measures differ greatly in which dispensaries would be allowed to open if approved by voters.
The county's measure, Measure E, aims to provide a "clean slate" for new dispensaries, while Latu and Abbasi's measure seems tailored to benefit dispensaries that have already operated in Kern County.
Measure E would effectively shut out any new dispensaries from coming into the county, and provide the opportunity for dispensary owners already in the area to reopen easily. Proponents say this method prevents county officials from picking and choosing their own preferred dispensaries.
An analysis by the county said Measure E would allow for as many as 60 dispensaries to reopen, most of them clustered in Rosamond and Oildale. Abbasi has disputed the county's figures, saying the number of dispensaries that would be allowed to reopen would be significantly less.
Each measure is required a 50 percent yes vote in order to pass. If each measure passes, the one with the most yes votes will go into effect.
Below are the main aspects of both measures.
Latu describes Measure D as the "people's initiative." She claims the passage of Measure D would bring jobs and economic growth to Kern County.
"It's more so the veterans and patients that we are deeply concerned about, because those are the ones that are impacted by this ban," she said. "Providing safe access to medical cannabis is a focus."
Provided owners can show documentation that proves they were open prior to Jan. 1, 2018, all previous medical marijuana dispensaries would be allowed to reopen.
Requires dispensaries to be located 1,000 feet from schools, in a zone where pharmacies may operate.
Gives supervisors the option to enact a special tax on medicinal cannabis businesses for up to $37.50 for each $1,000 of adjusted gross income. The proceeds would be deposited into the county's general fund and may be used for law enforcement and drug abuse education and treatment.
Authorizes commercial cannabis activity by cannabis testing laboratories
Allows for delivery services and off-site cultivation or manufacturing
Allows dispensaries to relocate if they are more than 1,000 feet from an existing dispensary and not in a neighborhood commercial zone
Supervisor David Couch described Measure E as the only option for voters who want the community to have some say in the permitting process of medical marijuana dispensaries.
"Access to legal medicinal cannabis can be done right," the supervisor wrote in the official ballot argument distributed to voters. "A YES vote on the Kern County Medicinal Cannabis initiative is a vote for community involvement to decide where retail medicinal cannabis stores locate and operate in your community."
Measure E would require dispensaries to obtain a conditional use permit before they would be allowed to open. The permit would apply for three years, and involve a public hearing.
Requires dispensaries to be located only in industrial zones, and bans dispensaries from being located within 1,000 feet of schools, day care centers, public parks, youth centers, libraries, city limits, places of worship and other dispensaries. Dispensaries are also banned from being located within 350 feet of residences.
Only allows retail sales of medical cannabis. All other commercial cannabis activity would be prohibited.
Imposes a general tax of $35 per $1,000 in gross receipts. The tax revenue may be used for general governmental purposes decided by the Board of Supervisors.
Sets development and performance standards for lighting, signage, noise control and hours of operation.
Allows the county to revoke the conditional use permit if dispensaries fail to meet performance standards or sell non-medical marijuana, along with other grounds.