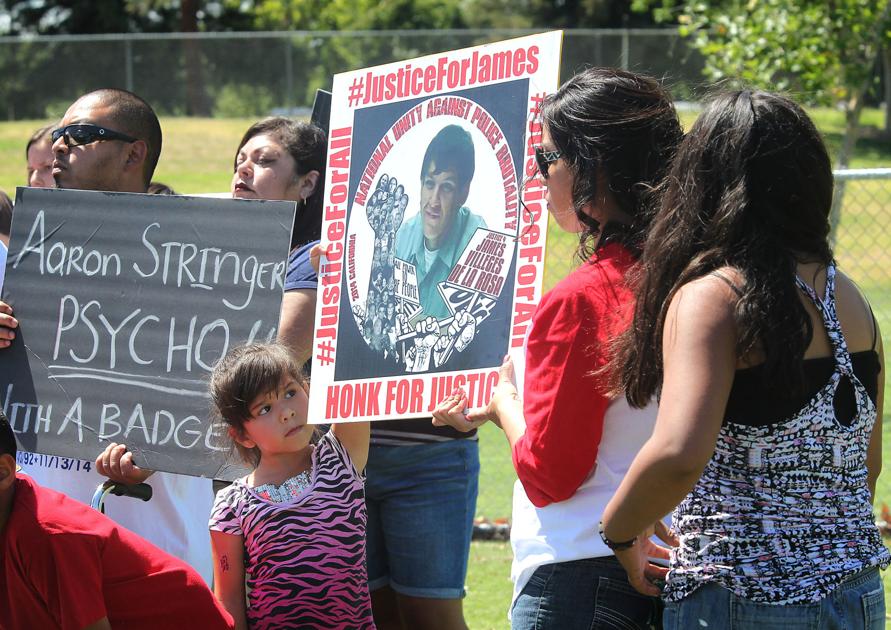 Nearly four years ago, an officer with the Bakersfield Police Department shot 29-year-old Jason Alderman six times after witnessing him shatter the glass of the front door of a local Subway and step inside.
The official accounting of the incident says officers had been searching the area in an unrelated investigation when they saw Alderman break into the building after it had closed for the night.
Video of the incident shows Alderman stumbling toward the officers as they stand in the front doorway, a dark object in his hand. The report says the officers believed the object was a rifle, and several times ordered Alderman to drop it. However, when Alderman reportedly raised the object, senior officer Chad Garrett fired.
"Within 22 seconds my son was dead," Alderman's mother, Judy Edens said, recalling the incident with tears in her eyes.
The department found that Garrett followed state and department policy and was cleared in the shooting.
The object was later determined to be a vehicle jack, making Alderman one of 10 unarmed people in Bakersfield shot by BPD officers in the last decade. Six of the 10 died, according a review of all Bakersfield police officer-involved shootings in the past decade.
Edens said her son was drunk, three times the legal limit, and blind in one eye.
Her family sued the city, and settled for $100,000, according to local news agencies, but Edens said she still has a hard time moving forward, and feels like justice has not been served.
"My son had a record, I'll tell you that, but he didn't deserve to be murdered because they're trigger happy in this town, and they know they're going to get away with it," she said. "As a parent I wait for the phone to ring, I wait for the door to open four years later and I'm never going to have that happen because they wanted to be judge, jury and executioner of my son and that's not okay."
On Mother's Day, Edens plans to drive to Sacramento to take part in a rally in support of a legislative bill that could drastically change the circumstances in which officers can use deadly force.
Eleven other local families of those who have been shot by local law enforcement are expected to join Edens, along with advocates for the bill from around the state.
A charter bus will leave from Bakersfield at 2:45 a.m., carrying the families to the state capital as they try to convince lawmakers to pass the bill, AB 392, which would draw a clear circle around the instances in which deadly force could be used by police officers.
"It's not going to bring justice," said Jesse Rodriguez, whose unarmed cousin was killed in 2014 by BPD after a car chase. "It's not going to bring my cousin back, but it is a direction to where we need to be."
The bill has attracted numerous supporters, but law enforcement agencies have stood in opposition.
BPD Police Chief Lyle Martin has spoken out against the bill, and other agencies throughout the state have worried about the bill's negative impact on the state.
Assembly members must vote on AB 392 before the end of the month or it will be considered dead for the year, setting the stage for a tough battle to get the bill to pass.
Although most agree that change is needed, many in law enforcement are convinced AB 392 will do more harm than good.
Conflicting viewpoints
BPD officers were involved in 59 shootings over the last decade resulting in the deaths of 34 people, according to an analysis of officer-involved shootings recently conducted by The Californian.
The review found that the BPD has a 10-year rolling average rate of 1.7 shootings per 100,000. By comparison, the city of Los Angeles had 1 shooting per 100,000, according to 2017 statistics.
Although many of the shootings would be still be legal if AB 392 became law, a portion – including the shooting of Alderman – would likely be considered outside state policy under the new regulations.
The change could have a significant impact in Bakersfield, where BPD currently is under investigation by the California Department of Justice for alleged excessive use of force.
"I don't think anyone can reasonably dispute that there are problems with use of force by the police department here in Bakersfield," said Jordan Wells, an attorney in the local office of the American Civil Liberties Union, a co-sponsor of the bill. "There still remains in Bakersfield a need to develop robust accountability mechanisms."
AB 392 would update a section of the state's penal code first enacted in 1872 and has seemingly been unmodified since that time.
The bill would change the law to allow officers to use deadly force only when it is necessary to prevent serious injury or death. Currently, law enforcement can use deadly force when it is "objectively reasonable."
The switch in the wording may seem small, but it has many in law enforcement questioning if the bill would expose officers to second guessing of split-second decisions.
"We definitely see this as a huge risk, and a huge threat to policing in California," said Shaun Rundle, deputy director of the California Peace Officers Association. "It might change the way we ask (officers) to get out of the car and proactively police because you never know what types of incidents may escalate to a use-of-force incident."
Rundle said law enforcement agencies, already struggling with recruitment, could face even tougher hiring challenges if the bill passes, and potential recruits are discouraged by a law that limits their ability to protect themselves and the public.
"We're willing to make some concessions on some things," Rundle said of ongoing efforts to change use-of-force law. However, "as long as this bill has this language in it, it's going to be hard for us to get there."
Law enforcement groups have backed SB 230, co-authored by Assemblymember Rudy Salas, which is currently sitting in the state Senate's Committee on Appropriations. The bill would set use-of-force guidelines and improve training for law enforcement agencies, but victim's rights groups say it does not go far enough to reform the law.
Lawmakers have joined AB 392 and SB 230 together, meaning either both bills have to succeed in order to become law, or the language of one bill must be incorporated in the other.
Negotiations between between law enforcement groups and advocates over the language of both bills have taken place over the last few weeks, and will likely continue in the foreseeable future.
Law enforcement groups hope to soften the bill's impacts by removing or diminishing the part of the AB 392 that deals with necessary versus reasonable force.
Salas said some compromise will likely be necessary in order for the bills to pass.
"We all recognize that there's an issue and we all recognize that law enforcement needs to do their job," he said. "I'm meeting with everybody to see where I can help force that discussion and force that compromise so we're doing something to ensure that the public is safe but also ensuring that law enforcement can do their jobs as well."
But it remains to be seen whether that compromise will satisfy the families of those who have been shot by police.
Rodriguez said he and other families in Bakersfield would continue to fight if the promise of AB 392 failed to be realized.
"We're here to stay," he said. "We are the voice."