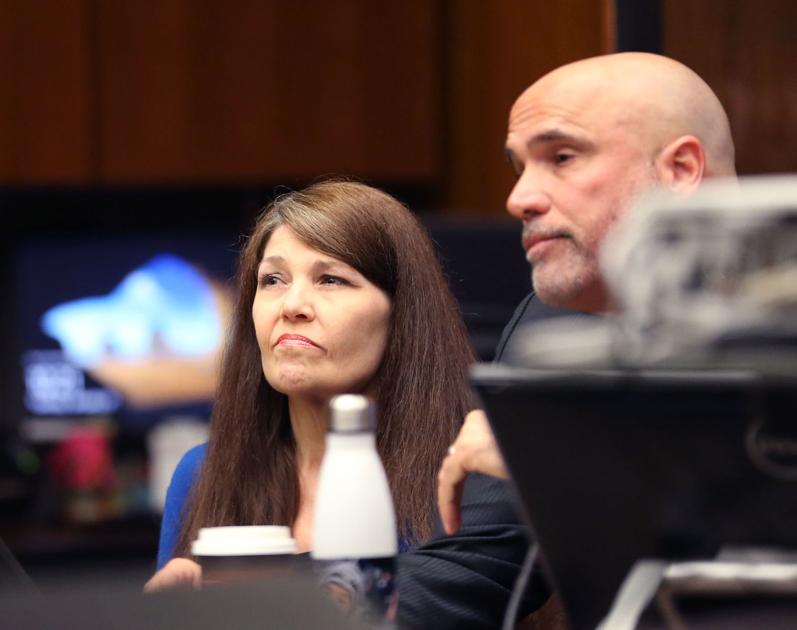 Closing arguments wrapped up and the jury began deliberations Wednesday in the murder trial of former school principal Leslie Chance, with the defense questioning the integrity of the investigation and the prosecution acknowledging some detective work was "sloppy" but insisting the facts still pointed to the defendant's guilt.
"While we can pick apart pieces of evidence, often their value (is) when you take them altogether," prosecutor Andrea Kohler told the jury.
Wednesday capped a four-and-a-half-week trial in which the prosecution set out to prove Chance committed first-degree murder when she allegedly shot her husband on the morning of Aug. 25, 2013 after previously discovering a texting tryst he had with a former girlfriend. She planned the murder for weeks beforehand, the prosecution alleged, using information learned at a CSI exhibit in Las Vegas to cover her tracks and make it look like someone else killed Todd Chance.
Prosecutors presented evidence that Leslie Chance was seen with her husband in his car pulling out of their driveway in southeast Bakersfield that morning. After shooting her husband and leaving him in an orchard, they say Leslie Chance drove to another location and left his car unlocked with the murder weapon inside in front of a drug house. From there, the prosecution said, she tried to cover her tracks by disguising herself as she made her way home, changing her clothes along the way. Prosecutors presented surveillance footage from that day that showed the person they say was Leslie Chance at various points along the route to the Chance home.
Defense attorney Tony Lidgett used his closing arguments to question assumptions the prosecution made and also asked the jury to consider whether the investigation of the murder was fair. Leslie Chance testified that she couldn't have committed the murder because she was home that morning, working on her computer, watching TV and waiting for a grocery delivery.
Lidgett raised questions about the work of one particular Kern County Sheriff's detective on the case. That detective, Kavin Brewer, was shown during trial trial to have conducted interviews with several witnesses that were never entered into evidence before the case went to trial. Several of those witnesses said the person in the surveillance footage investigators had collected was not Leslie Chance.
"When thinking about whether or not (the prosecution) proved their case, take into consideration, was the investigation conducted in what would be a fair manner," Lidgett said, addressing the jury.
He also said detective Brewer tried to influence witness statements, telling people brought in to view the surveillance footage that others had already said it was Leslie Chance.
"It's time for (her) to go home," Lidgett said at the end of his closing arguments. Leslie Chance has been jailed since her arrest in 2016.
Prosecutor Kohler admitted "a fail on the part of the sheriff's department" regarding how some evidence was handled, including DNA samples that were collected but never submitted for processing.
"There was some pretty sloppy work. Reports weren't written, interviews weren't booked," she said.
While that made the prosecutors "pretty angry," it didn't dramatically impact the case, she said.
The interviews not logged into evidence were not consequential, she said. Some people thought it was Chance and others didn't but there was no positive identification. The evidence still showed, Kohler said, that Leslie Chance became enraged that her husband was having a romantic text exchange with a former girlfriend and plotted to kill him, knowing that divorcing him and paying alimony would interfere with the lifestyle she had created for the family as its primary breadwinner.
Her husband's unfaithfulness "made her absolutely furious," Kohler said. "Furious enough that she wanted him dead."