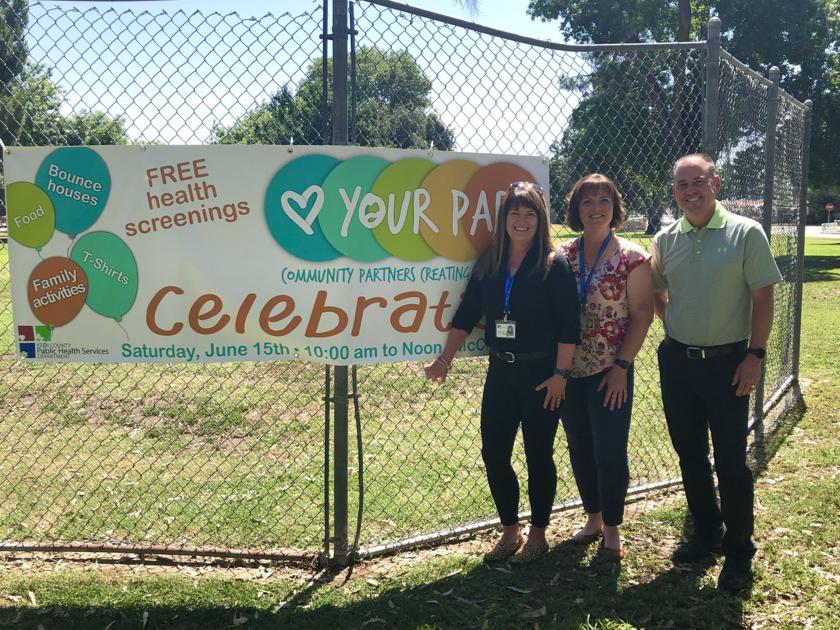 Linda Stewart has lived across from McCray Park in Oildale for many years, but for much of that time, she has been hesitant to actually use the park.
Stewart said she frequently sees junior high and high school students doing drugs there. She's seen obscene graffiti and drawings, as well as used needles and drug paraphernalia strewn around the park.
"It's gotten progressively worse over the years," she said. "The first time my granddaughter and I went over there, we had to be careful. There were things I didn't want her to see. I would also take my dog to the park, but it got to the point where I couldn't let her walk along the curb because there were needles there."
To help improve park conditions, the Kern County Public Health Services Department has partnered with Supervisor Mike Maggard and the North of the River Recreation and Park District to lead a community effort to make the Oildale parks cleaner and safer.
"We want people to know that we're here to help and we want to do what the community wants. We want them to be able to enjoy safe and healthy parks," said Kern County Public Health Director Matt Constantine.
While the department has been involved in park improvements in other areas of the county in the past, Constantine said this is the first time they've focused specifically on Oildale.
Constantine said the department was informed by Maggard's office a few months ago that he had received complaints regarding the community and park conditions.
The department then examined parks in the Oildale area and surveyed community members to see what the primary concerns are. From there, the department is focusing on five parks — McCray, North Beardsley, North Meadows, Sears and Standard.
Assistant Director Brynn Carrigan said she was shocked by what she saw and learned about what was happening at the parks.
"I was very surprised that we actually found used syringes on the ground (at McCray)," she said. "There are areas where people had been defecating and urinating in the park. We saw a lot of cigarette butts, drug paraphernalia around the play equipment."
After collecting information at the parks, the department presented its findings to the NOR district and urged the district to partner with them.
After months of preparation, local agencies are ready to kick off a community effort to make Oildale parks safe again, starting with McCray Park. A celebration is planned for Saturday at the park, where community members can learn about how to get involved.
The event will include a press conference involving local agencies followed by family activities, free health screenings, food and more.
"We're asking the community to come forward and be a partner with us, to play an active role," Constantine said. "The hope is that together we can improve the conditions and address some of the issues."
Constantine said the department has already partnered with waste disposal company Varner Brothers, which will install a container at the park where people can place used syringes. That's expected to be installed this week.
"That's not what we want. We don't want needle kiosks in a park, but clearly from our first hand evaluation drug use is a big problem," he said. "Hopefully this would be a short-term fix."
Constantine said the department is looking at longer-term solutions such as lighting and surveillance cameras.
Carrigan said if more residents use the parks, it will go a long way in deterring illegal activity.
"If you have these neighbors using a park actively, you're not going to see people using it as a hiding place where they can sit and do drugs," she said. "That's the number one solution to stopping drug use in the parks."
Stewart said she's very excited about the effort to improve McCray park. She said she's reached out to 25 families making them aware of the effort, and most expressed an interest in helping out.
"I think the neighborhood is ready. They're ready to take their park back," she said. "We want a park where we don't have to worry about bringing our kids. I don't want to move. I want to stay right here and I want to be able to have my grandkids and great-grandkids come over and play in the park."