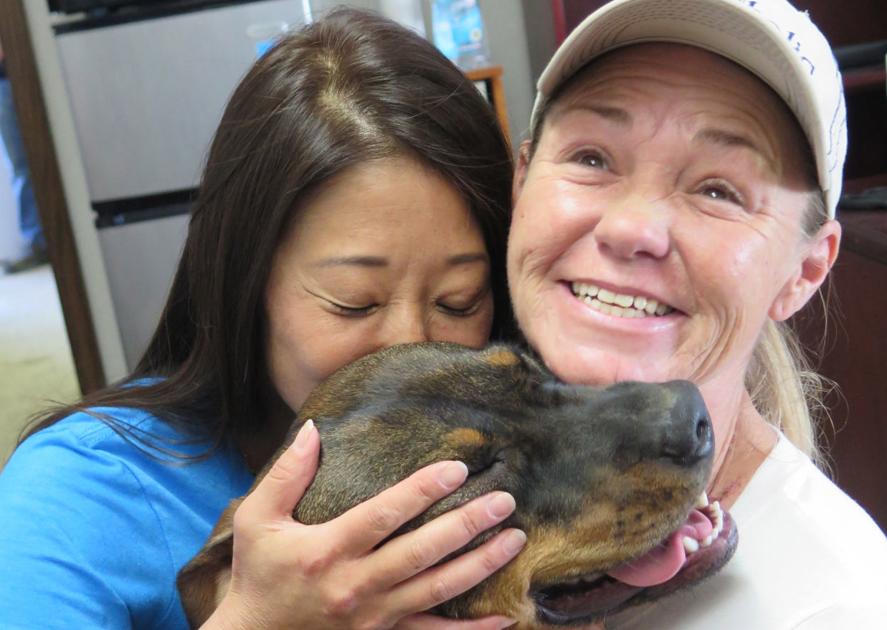 Franklin M. Mutt was still a puppy when he woke up at UC Davis Small Animal Clinic one morning and was told by his doctor that he would have to have his front leg amputated. No one knows exactly what happened to Franklin, but it was surmised that the canine was thrown out of the back of a moving pickup truck.
Franklin first came to Marley's Mutts Dog Rescue in August of last year. After he had his first leg amputated, he wound up getting methicillin-resistant staphylococcus aureus and would later have his second front leg amputated.
When he arrived, he was embraced by a trio of foster moms: Natalie Morales, Lucy Anderson, foster coordinator for Kern County, and his current foster mom, Tricia Sasaki, who assists with accounts and administration at Marley's Mutts.
"Franklin is all healed from his surgeries, but there is no fur there because of his dragging," said Sasaki.
Jeff Ryan, founder of King Kanines, a 501(c)3 organization in South Florida, first learned of Marley's Mutts and its founder, Zach Skow, on social media. Ryan said he was inspired by one of Skow's pet rescues, Naaji, a dog that had been left for dead in Saudi Arabia after a spine injury caused paralysis in his hind legs.
Ryan said that something struck a chord when he saw Naaji in his wheelchair.
"When I saw the difference between a dog that was broke, really at the lowest point of his life, to a dog that now is running and playing with the other dogs, sometimes in life something happens eternally, and for me, that thing happened," said Ryan.
Serving as his inspiration, Ryan said it became his mission to help more dogs like Naaji. Within two or three months, he started Dogs Rock and Roll to give other dogs the opportunity to run and play again. He linked up with K9 Carts, a company that makes mobility devices for pets.
Ryan flew to California and presented Franklin with a custom-built cart, valued between $500 and $1,000, at Marley's Mutts ranch site the afternoon of May 9.
"We came out to see the awesome people here, who are really the heroes, the ones that are here spending all their time on these dogs," Ryan said. "To me, that is super impressive. We have been able to help some of these great rescues that have some great manpower, but may not have the funds or the finances. It's been awesome to be able to do this, and for them to be so accepting of us trying to help."
Sasaki and Anderson both said they were thrilled that Franklin can now run and play with other dogs now that he has his new mobility cart.
"At first he wouldn't even take a treat with his cart," Sasaki said. "But the more he was using his legs, he finally could see that he could run around with it."
Leticia Singleterry, social media coordinator for Marley's Mutts, said the dog rescue relies heavily on the donations and kindness of others.
"It is such a huge help because these things are very expensive, and the more donations we get, the more dogs we can help," Singleterry said.
Marley's Mutts is looking for a forever home for Franklin, who currently doesn't require much other than a loving home and someone who is around most of the day to keep an eye on him. He loves people, children, cats and other dogs, and loves to run in the yard with his new cart.
Said Sasaki, "And he gives good hugs."