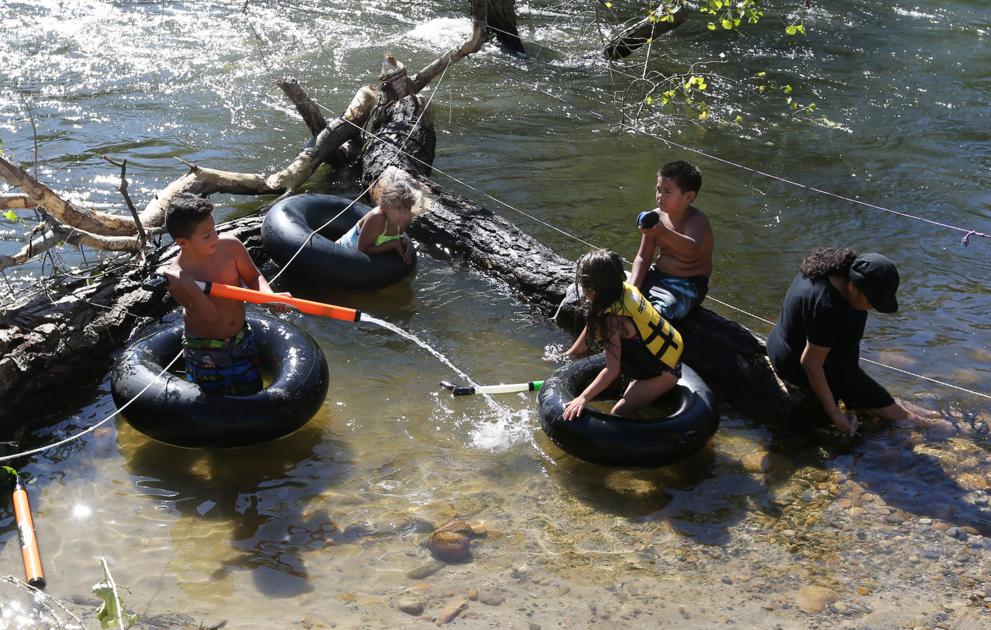 As of this writing, six people are still in the Kern River, missing and presumed drowned. An 11-year-old local girl is among them.
Shocked to learn so many are missing at once? Of course you're not — this happens every year.
Since 2000, 96 people have died in the Kern River, according to the Kern County Sheriff's Office. Barring a miracle, that number will top 100 before the end of the week.
Every year, the Sheriff's Search and Rescue team updates the number of fatalities listed on a sign posted at the mouth of the Kern River Canyon, often with a roadside press conference. Local media dutifully covers the somber unveiling, and local media proceeds to then dutifully report the drownings that occur anyway.
My good friend David Brust was mindful of this insanity when, on a recent weekend trip to Morro Bay with his wife Lillian, he noticed a dozen or so life vests hanging near the entrance to the Central Coast town's wharf. "Kids Don't Float," read the sign above the row of vests. "PDF Loaner Station." Yes, use one of these personal floatation devices while you're out on the water and return it when you dock.
Brust posted a photo of the loaner station on Facebook.
"Maybe this could be part of the answer on the Kern River," he wrote. "PFD loaner stations at popular swimming points along the river could make a difference in our drownings. Rarely has anyone died while wearing a life vest on the river."
I asked him about it Tuesday.
"What we have been doing so far has failed," he said. "Why don't we do something a little different? Take the time to put out vests where we know people are going to get in the water. These continued drownings are a failure we need to address. Unless we're prepared to fence off the whole river or fine people $500 for going in the water, we need another solution."
A couple of Brust's friends pointed out that people would just steal the flotation vests.
Well, of course they would. So what? Then they'd have life vests — that day and presumably the next time they visit the river. But I'd wager theft wouldn't be as frequent as some might think. People are more decent than we give them credit for. And the loss of a few stolen life vests is more than worth the value of such a program.
"That's been our take," Becka Kelly, Morro Bay's harbor supervisor, told me Tuesday. "If they take a vest today, they have one for next time."
The Morro Bay program started three years ago with a local boater's private donation of the vest-rack and the first batch of vests. Since then, other boaters have donated additional vests, both new and used. Program coordinators have also used cash donations to buy inexpensive vests.
And though the Morro Bay folks have not taken advantage, Kelly points out that organizations like the BoatUS Foundation have programs that provide free loaner vests. They're available, for example, at Lake Success, near Porterville; Lake Kaweah, near Lemon Cove; and Lake Casitas, near Ventura.
This is not to suggest that no one in Kern County is trying. In fact, the Kern River Conservancy has just launched its "Just Wear It" social media campaign, a video PSA that warns people of the river's risks. The campaign runs through Labor Day.
At least one private local company is getting with the program, too: Kern River Outfitters is offering free life jacket rentals. Visitors must register at the company's Wofford Heights stores; vests are available while supplies last.
Can we do more? Of course. Anybody out there in a position to seed a local loaner-vest program with a dozen used vests for the Kern River and perhaps elsewhere? Let me know.
My column last Sunday discussing The Californian's imminent transition from the ownership of TBC Media to Sound California News Media mentioned some of the prominent changes and non-changes that will take place at the stroke of 5 p.m. this Sunday.
Most familiar faces, such a columnist Herb Benham and business editor John Cox, are staying, and a few others, including Vice President/Executive Editor Jim Lawitz and retiring copy/wire editor Tim Heinrichs, are not.
The weekday tabloid-format edition is going away in favor of a seven-day full-size sheet, to be published at the press facilities of the Antelope Valley Press starting July 1.
Some readers were under the impression that our circulation/distribution operations were changing as well. They are not.
Santa Clarita-based FWD Mg Inc., which has been distributing The Californian for three years, will continue to do so. That only makes sense, because FWD has been distributing the AV Press for two years as well.
FWD owner Jason Bassett knows what he's doing, having been in the newspaper delivery business since high school, 30 years ago. Today his company delivers 30 different publications and a total of 50,000 copies daily — more than half of those The Californian.
I was saddened to learn of John Hollins' passing. The leader of the John Hollins Band was a tremendous trumpeter and a genuinely nice guy who clearly did not mind ceding the spotlight to his bandmates, especially Tracy Peoples, who sings like Janis Joplin's long, lost little sister. Godspeed, John.