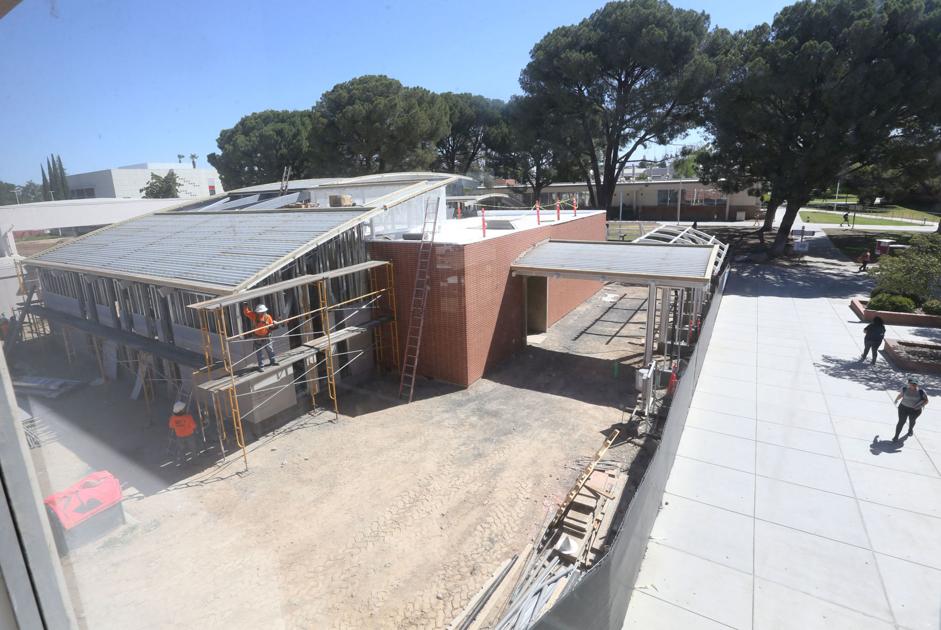 Even though it is summer Bakersfield College has plenty of commotion on campus with several construction projects currently taking place.
Kern County voters approved the $502.8 million Measure J bond in November 2016, and BC received $415 million for various improvement and construction projects across campus.
With two projects complete — renovations to parking lots (completed in October 2018) and updating all interior buildings with wireless access points (completed in March) — the college is hard at work on a Veterans Resource Center, Campus Center and updates to Memorial Stadium.
Construction on a handful of other projects, such as a science and engineering building, gymnasium and field house and Campus Center Annex, will begin later this year or in future years.
Bill Potter, director of maintenance and operations, said with the campus more than 60 years old, it seemed like the right time to make improvements.
"We knew and identified it was time to update," he said.
The college's top projects were the Veterans Resource Center and science and engineering building, he said. Plans for the two buildings started ahead of the parking lot renovations, but due to constructing new spaces it will take more time to complete those projects.
Currently students and visitors can see steel beams up in the spot where the Veterans Resource Center will stand on campus.
The space for a growing veteran population on campus will house counselors and advisers and various study hall and lounge areas.
"They had a small room on the side of one of the buildings, and now this gives them an actual building," Potter said. "We can serve veterans for the needs they have."
The project will cost $7 million and is expected to be complete in December.
The science and engineering building, a new three-story building that will house offices, labs and classrooms, is currently in the design phase. Construction is anticipated to begin in December and be completed in September 2021. The cost is approximately $65 million.
Students had a campus center available to them, but the college recognized it was in need of some improvements. The old building has been torn down, and groundwork has begun.
"This will be the hub of everything that takes place on campus," Potter explained. "You'll have the cafeteria, book store, Student Government, Student Life, conference centers all there."
Construction began in November 2018, and it will open November 2020. The total cost will be $38 million.
Students will soon be able to use Memorial Stadium again in August just in time for football season. The stadium has been closed since April to replace the artificial turf and track.
Phase two of the stadium's construction — focused on renovations to restrooms, concession stands and press box and a replacement of the score board, PA system and field lighting — will begin February 2020 and continue through September 2020. The total cost of both phases amounts to $2 million.
The project was split into two phases in order to reduce campus disruption and avoid having the stadium out of use for more than a year.
BC Athletic Director Sandi Taylor said the additions will allow for an enhanced in-game experience for fans and players.
"It is a very exciting time for our athletic department to be able to provide our student athletes with state-of-the-art sport surfaces," she wrote in a text message.
A majority of the projects will be completed by 2025, with some smaller scale ones going through 2030.
"As a college trustee, I am committed to the success of our students and the colleges in our district. And as a local businessman, retired homebuilder and member of this community, I am committed to seeing that we are spending our local bond funds with local companies," said Kyle Carter, a Kern Community College District trustee.
Most current students will not see the finished product, but Potter hopes they can see the benefit this brings for future Renegades.
"We're planning something for the future," he said. "A lot of people may not be at BC when it's done, but we're planning for everyone."