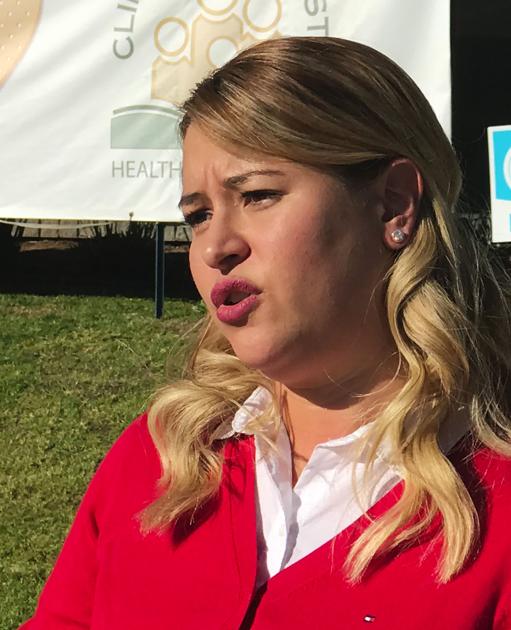 It was nearly four months ago that Joshua Morris arrived in Bakersfield from Chicago, but the landing pad he thought was waiting for him never materialized.
"I was living on the streets for a while," Morris said. It was something he'd never had to do before. And for a 34-year-old who also happens to be HIV-positive, it was hardly ideal.
"Now I'm living on my own. I have two jobs," he said Monday at the World AIDS Day Conference at Clinica Sierra Vista's 34th Street Community Health Center north of downtown Bakersfield.
The annual event is an opportunity each December for people worldwide to unite in the fight against HIV and to remember those who have died from an AIDS-related illness, said Dr. Alexandra Franco, Clinica's infectious disease specialist.
Monday was also a chance to rededicate attention, education and resources to a public health problem that is clearly not going away.
"Kern County had 152 new cases of HIV in 2017," Franco said. "Those are 1990 numbers."
The last time Kern's HIV numbers spiked like this was 1991 and 1992. But the county's total population was lower, so the rate of infections per 100,000 residents in 2017 was still 40 percent lower than it was during the epidemic years, according to statistics from the Kern County Department of Public health.
The county has some of the worst rates of sexually transmitted disease in the state, consistently ranking among the five worst counties for rates of syphilis, gonorrhea and chlamydia. Nearly 10,000 new cases of STDs were diagnosed throughout the county in 2017, the health department reported.
"Risks for young people in our community are on the rise," said Jennifer Kuhach, director of Clinica's Infectious Disease Program.
Clinica, which provides healthcare services to thousands of people in the Central Valley who otherwise wouldn't have access, is asking HIV patients for advice to help the healthcare provider better serve HIV patients.
"How can we do a better job?" she asked. "How can they find what they need?"
"We're going to be there every step of the way to guide you through the process," she promised patients.
HIV, or human immunodeficiency virus, harms the immune system by destroying white blood cells that fight infection. This puts patients at risk for serious infections and certain cancers. AIDS, or acquired immunodeficiency syndrome, is the final stage of infection with HIV.
But both Kuhach and Franco say advancements in drug therapies means the death sentence that was once associated with HIV and AIDS is history.
"People with HIV are living normal, healthy lives," Franco said.
But despite these positive changes, too many people are still misinformed about HIV — and the old stigmas remain.
Morris credits Clinica for immediately getting him on-track with his meds and following up with help regarding his unexpected homelessness.
The only reason he spoke publicly at Monday's event, he said, was because he thinks he might provide courage and support to those who are afraid to come forward and seek help because of the cruelty still directed toward those infected with HIV and AIDS.
About 1 in 7 people who are positive for HIV don't know that they are, so the most important thing we can do is help raise awareness for the disease and get tested, said Clinica CEO Brian Harris.
Get tested. It was a refrain that was repeated several times Monday.
"It is so important to know your status," Harris said. "Everyone is at risk."