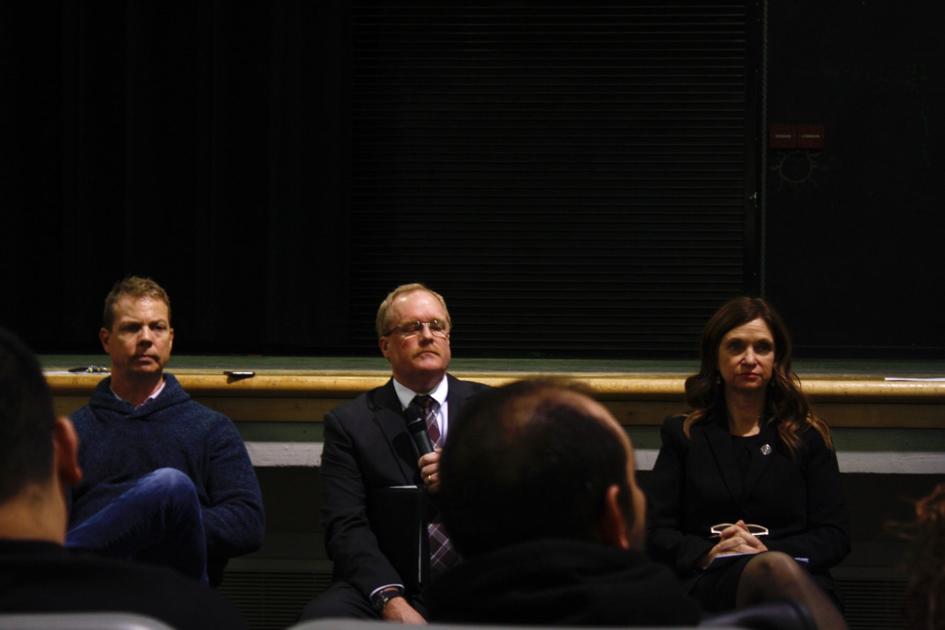 The Bakersfield Police Department and local street racers opened a dialogue toward finding a solution to illegal street racing at the first community forum regarding the issue on Tuesday evening at Independence High School.
Local officials, community members and street racers — many who represented the National and International Brotherhood of Street Racers — found a common ground concerning the issue of illegal street racing.
BPD Interim Chief of Police Greg Terry called the meeting "the first of many to come."
"We know there are significant issues in our community. There are issues with violent crime, gang activity, property crime and other tremendous challenges that we face. We want to address as many of the public safety issues in our community as we can," Terry said.
Steve Hughes, general manager of Kern County Raceway Park, offered to host street racing activities at his business in the future. Depending on promotional support and community interest, Hughes said the raceway could host weekly street racing events.
City Councilman Chris Parlier said he would commit $1,000 in financial support towards the Kern County Raceway Park or other possible legal solutions. This garnered an enthusiastic applause from members of the street racing community.
Many of the street racers in attendance shared concerns of being "profiled" when they are not committing any crimes, but driving cars commonly associated with the activity. One street racer brought up that he has been pulled over for his National and International Brotherhood of Street Racers sticker he has displayed on his rear window.
"The level of professionalism that we expect our officers to engage in is high and if a member of our community does not have that kind of an experience with a police officer, I want to know about," Terry said. "The issue of profiling in any way, shape or form is illegal and wrong."
BPD detective Ken Sporer outlined some components of "illegal street racing," which included burnouts, drifting, blocking off streets for races, exhibition of speed and reckless driving. Another key point Sporer brought up was the variety of emissions violations and illegal modifications racers sometimes make to their vehicles.
Kern County District Attorney Cynthia Zimmer outlined the misdemeanors that are related to illegal street racing and their penalties. Zimmer addressed a question written anonymously by an audience member that was in favor of heightening street racing offenses to felonies.
"I think in the current climate of (California's legislative system) — where you have a push to decriminalize things and lower punishments — it would probably be easier to have street racing misdemeanors lowered to infractions rather than raised to felonies," Zimmer said.
Zimmer also warned of the implications that could occur when an individual is injured as a result of illegal street racing. She even noted that in instances where a death occurs, illegal street racing spectators can be charged with felonies.
The issue of street racing has taken a heightened sense of awareness recently, with things coming to a head in November after a street racer struck a minivan in southwest Bakersfield. The accident sent the minivan into the path of an oncoming crane truck and killed the minivan's driver Maria Blaney Navarro, 58, of Bakersfield, and seriously injured her two grandchildren.
Parlier said the issue will next be addressed at the Feb. 13 meeting of the Bakersfield City Council's Neighborhoods and Community Relations committee at 9 a.m.